ELKO EP/INELS: Effective Light Control with RF DALI
This article originally written in Czech by Michael Michalčík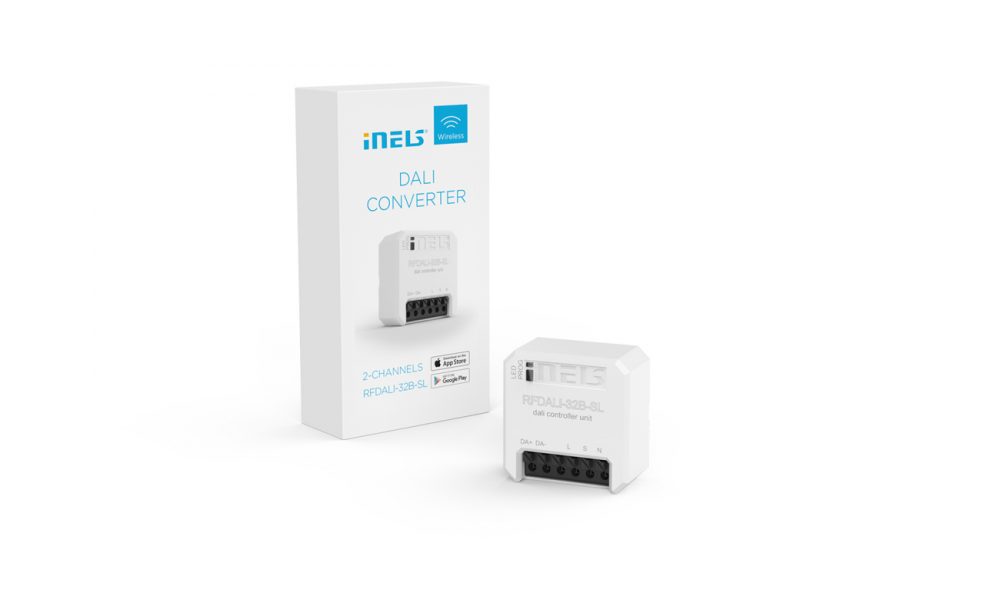 It appears that the era of using the term "light control" solely for turning on a lamp or manipulating wires with a switch has come to an end. The introduction of LED light sources, which offer scalability in brightness and color, has triggered significant changes in the field of electrical installation and remote control technologies.
Nevertheless, the newly found possibilities of dimming and adjusting the color temperature of white light or RGB, brought about a certain level of confusion in control methods. This confusion stemmed from varying time delays caused by distances between switches and light sources, as well as the incompatibility between lights and controllers from different manufacturers.
It comes as no surprise, then, that the market sought a universal solution to these problems. The answer has come in the form of the universal DALI lighting control protocol, initially exclusive only to large-scale electrical installations such as production halls. The DALI system technology has now found its way into apartments and houses.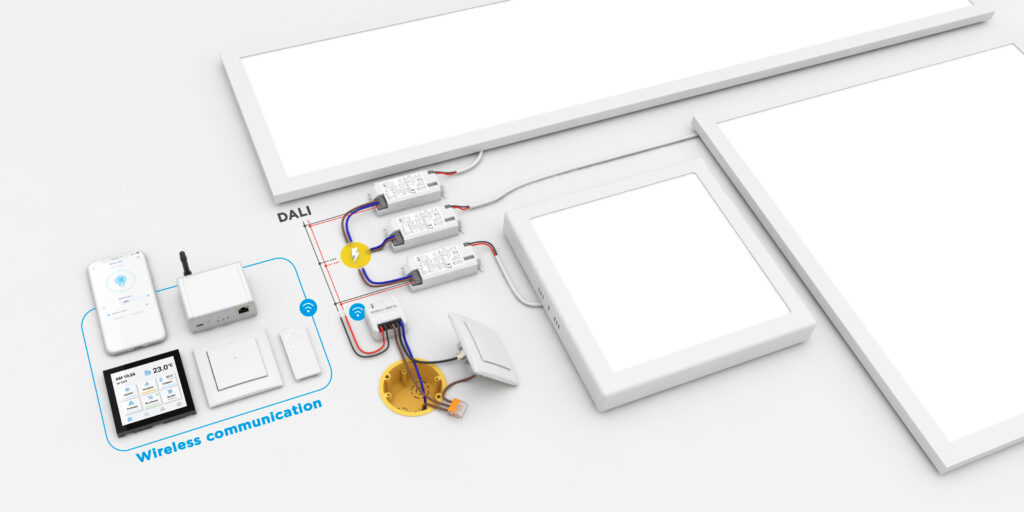 ELKO EP has long implemented the DALI protocol, enabling their customers to control larger groups of lights within BUS systems.
These systems, governed by central units supporting the DALI protocol such as the HELVAR Subnet DALI Controller or OSRAM DALI PRO 2 IOT, have a significant drawback: their high price. Even for relatively modest installations, the cost can easily reach EUR 4300.
Consequently, ELKO EP toyed with the idea of creating a compact and highly versatile unit that would be both suitable and affordable. That idea has now become a reality with the introduction of the RFDALI.
The compactness of the RFDALI lies in its ability to control up to 4 relays (RFDALI-04B-SL version) or up to 32 addresses (RFDALI-32B-SL version) with a small unit that fits into a standard mounting box beneath a regular switch. This means that an incredible number of 32 lights can be controlled by this innovative device.
ELKO EP ensured universality by incorporating the RFDALI unit into the iNELS Wireless system. This allows users to take advantage of all the benefits associated with this unique wireless ecosystem. Whether you prefer using fancy wireless controllers or controlling the lights through apps, the possibilities are endless.
If you wish to integrate home lighting control with the MQTT protocol, the eLAN Smart RF Gateway is available for that purpose. Furthermore, guided by their motto "always something extra," ELKO EP pushed the boundaries of versatility with the RFDALI unit, enabling users to control it with a simple button.
Furthermore, there's no need to configure the button, as the device will automatically recognize it. And if that's not enough, the RFDALI unit also supports compatibility with blinds and classic switched lights for creating relaxing ambiance or using exit buttons. Best of all, no gateway is required for these features, as they can be accessed via the unit's web interface or by connecting a conventional button.
So, what does Alex Elgart, the product manager, have to say about the RFDALI?
"While testing the RFDALI unit, I discovered the significance of the correct temperature of white light for our biorhythms. I installed the unit in my bedroom. During the summer, I have an alarm set on my iPhone through MQTT to HomeKit, which automatically raises the blinds. I use the RFJA-32B-SL wireless element for this purpose, and it works perfectly for me when waking up in the dark winter mornings.
I have configured the RFDALI to gradually emit light, transitioning from soft white to crisp cool white when the alarm goes off. This setup provides an ideal wake-up experience, leaving me feeling refreshed within just 3 minutes.
When it's time to sleep, I activate a warm white light and gradually dim it over a period of 10 minutes until it completely turns off. Usually, this duration is sufficient for me. But what if I want to turn off the light earlier or wake up before the alarm clock? I simply use the wireless switch on my bedside table to control the light. It is effortless ease for an optimal sleep experience !
So, what specific function are you interested in trying with our RFDALI?