DR145-1MOD Datasheet
SDM120D (Manufacturer Code)
The DR145 meter has been produced to offer a low-cost solution to metering low Amp circuits. It is directly connected to a maximum load 45A AC circuit, and comes with a pulsed output for remote monitoring.
The DR145 is housed in a 1U Dinrail mounted housing. It comes complete with sealable terminal covers to stop any tampering with the connections.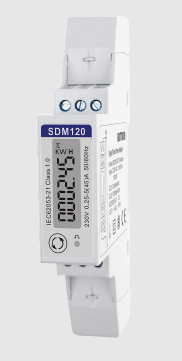 REMEMBER TO ORDER YOUR SEALS AND WIRE.
SEALING THE TERMINAL COVER ENSURES SECURITY AND SAFETY. SEALING PLIERS ALSO AVAILABLE